Black & white theme will always inspires furniture designers, it's a symbol of modernity blended with elegancy. For black & white fans, we are gathering for you some beautiful collections of modern black & white bathrooms furniture. Black glass can be now used in bathroom furniture set to add an attractive and modern touch to the bathroom. A glossy black cabinet with aluminum frame and a simple mirror with black frame shall give your bathroom a very stylish look. Because modern style depends on simplicity, you can find a beautiful bathroom set based on geometric design and simple lines, minimalist and practical. It can be flexible to use in small bathrooms. Some sets come with cabinets with glass doors which can be decorated by beautiful pictures with the same elegant contrast between black and white. Some designers sometimes try to change the usual black & white by adding third color to it or even replace white by another color, Pom d'Or ,for example, presented a collection called Sensual Luxury which depended on the elegant black color with a touch of gold instead of white to add more luxurious atmosphere. This combination between black and gold came through the usage of natural materials such as Ebony woods and Gold pans with lacquered finishes; also the warm lighting is contributing in the general luxury and comfortable atmosphere. If you want a very contrasted and original bathroom, you can go for completely black wall with white sink and bath. This one must have good lightings for not being too dark. Washbasins presented by Inka project could perfectly match with black & white bathrooms. They are available in both single and double models, also available in many different finishes such as ceramic and glossy lacquered. For more functionality, those washbasins can be combined with drawers or other storage units.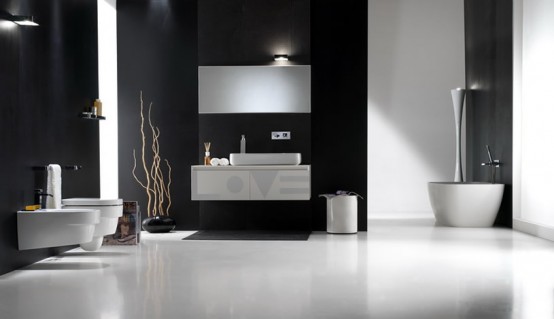 Elegant Black and White Bathroom with modern design
Exotic Black and White Bathroom
Modern Black and White Bathroom
Modern Black and White Bathroom with classical design
Black and White Bathroom furnishing looks amazing
Cute Black and White Bathroom design
Noken back creating a modern bathroom design in black and white is beautiful. black and white to be the only option you can use to create a modern bathroom. Bathroom furniture and minimalist furniture in order to use the bathroom has enough room to express themselves. Minimalist furniture can create a bathroom design firm and black and white bathroom. Black and white bathroom is suitable for everyone. If you want to have elegant bathrooms, comfortable, modern, design Noken should be used in your bathroom right away.
Clean Black and White Bathroom design
Relaxing Black and White Bathroom design
Beautiful Black and White Bathroom